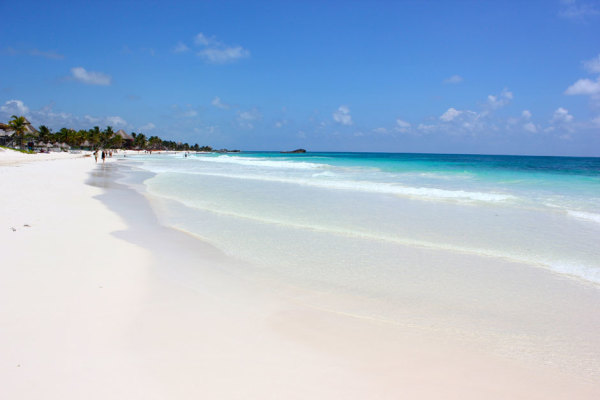 This post has been created from our forma domain tulum.co.uk which expired by accident and got bought by someone, well they're not having the content too!
'Tulum' in the ancient mayan language means 'wall' or 'fence' as the tulum ruins were orinally a walled city. Tulum is a 1.5hrs drive from Cancun, but soon a much quicker hop when the tulum airport is completed. Tulum is on the Yucatan Peninsula in Mexico, on the caribbean side. The beaches are some of the best in the world and backed by virgin jungle. Local activities besides the beach include snorkeling, scuba diving, exploring cenotes (underground caves), adventure parks and exploring Mayan archaeological sites like the fantastic Chichen Itza.
Tulum is relatively undeveloped compared to other areas in the region with very few large beach front developments. Tulum has a laid back hippy vibe and is a big area for eco tourism. If you are looking for a more commercial destination, there are plently of quality resorts in Cancun, Cozumel and Playa Del Carmen.  Here's some things to do if you want more than beach life.
Tulum Ruins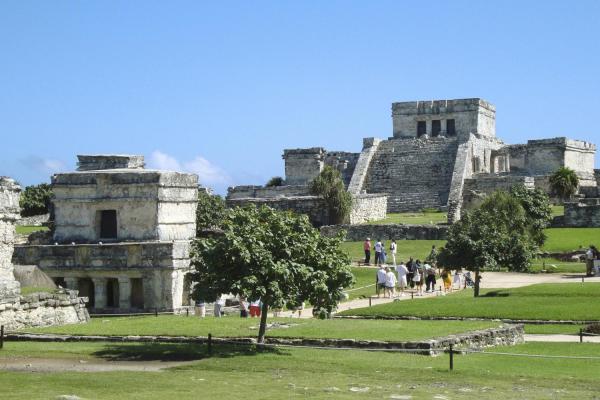 If you've ever heard of Tulum, Mexico, it's probably because of the pre-Columbian ruins there. Before you visit, it's a good idea to read a little about them so you understand their significance and find out why they are the third-most visited archeological site in Mexico after Teotihuacan and Chichen Itza.
Tulum is located on the Yucatan Peninsula's east coast. The ruins there are especially impressive because they rest on 39-ft-tall cliffs and visitors can easily see them as they swim in the adjacent Caribbean Sea.
Those cliffs made a natural defense against invaders and the ancient Mayans added to their protection with walls, from which the name Tulum (the Mayan word for wall) was derived. Walled cities were not common in ancient Mexico so the walls were an important distinction.
Research shows the site was occupied at least by 564 A.D. but it reached its greatest importance from 1200 to 1521 as a trade center because it was easily reached by both land and sea. Archeological digs have found artifacts from other civilizations from Mexico to Central America. Unfortunately, the last of these civilizations, the Spanish, were the probable cause of Tulum's undoing. Once the Spaniards unwittingly brought with them unfamiliar European ailments with them, the people of Tulum were helpless to fight them off and this beautiful walled city was abandoned, probably by the 17th century.
Today's visitors will be awed by the massive wall that protected the city and the artifacts of the ancient Mayan religion with figures of a diving god seen in many temple niches and on centuries-old murals. The Mayan were expert maritime traders and it is obvious the site was important because of its ideal location as a port for canoes and other small vessels. The Castle was believed to have served as a lighthouse marking a safe harbor. A nearby Cenote (sinkhole) provided fresh water to the community.
Despite its proximity to Cancun and its popularity with tourists, there is still plenty to see, most notably the Castillo (castle), the Temple of the Descending God, the Temple of the Initial Series, the Temple of the Frescos, the House of the Columns and the Temple of the God of the Wind. Visitors can walk among the ruins via clearly marked walkways, but of course access is greatly restricted to prevent further erosion.
This site is popular because the ruins are so close to popular tourist destinations in Cancun and Playa del Carmen. It is also popular because of its beautiful beach adjacent to the ruins. For that reason, it has become a tourist destination of sorts but has avoided becoming a tourist trap. In addition to exploring ruins or improving your tan, you can also explore a crafts market and watch the pole fliers from Guatemala perform.
While it is possible to visit and enjoy seeing the ruins without a guide, it is well worth the reasonable price to take a guided tour. The ruins of Tulum offer a peek at an ancient civilization and you should make the most of that opportunity.
Cenotes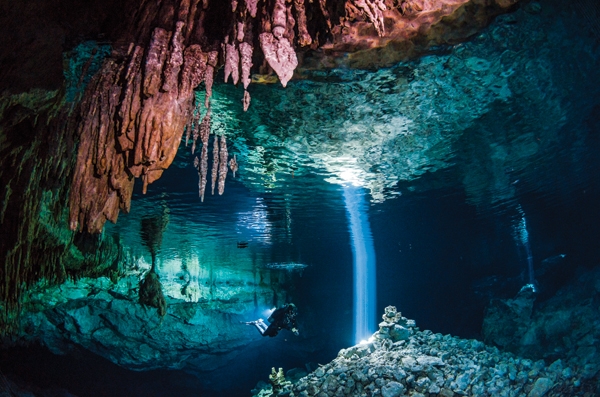 The yucantan Peninsulars centoes are world famous. They are part of this regions underground river network, one of the largest in the world. The cenotes are caves with underground pools which you can swim, snorkel and scuba dive in.
Visiting a sinkhole may not sound like an important part of a vacation. But if you haven't visited at least one of Yucatan's thousands of cenotes, you'll have really missed out on something special. Here is a list of the best ones.
First, though, an explanation is in order. The Yucatan has no rivers, thanks to its geology. Thus its groundwater is naturally collected in these sinkholes. There are more than 3,000 of them, each with its own unique rock formations that add a bit of mystery and beauty. Some are open at ground level while others are far underground.
Cave Diving Yucatan, Mexico
Because they are often the place where local villages wash and collect drinking water, cenotes often became the local gathering spot. So, in addition to seeing some unique natural beauty, you also get a chance to know the people of the Yucatan.
Researchers have long studied cenotes, both for their geological formations as well as for their archeological importance. Because they were important in Mayan rituals, many of their artifacts have been found there, along with fossils of mammoths, jaguars and other creatures. For that reason, access to some cenotes is restricted in order to preserve what is there.
There are many professionally run tours that will take you to several cenotes. You can find many of them yourself along La Ruta de Las Cenotes (The Route of the Cenotes). Many are open to the public for a small fee or even for free. Many others are on private land – only visit them if you have the owners' express permission.
If, in your inland travels, you see a cenote in a remote and want to stop, be very careful. Many cenotes are unexplored and the cenote system extends for many miles underground. If you are alone, do not explore it by yourself. Also, be aware that thieves have been known to take advantage of people and cars parked by remote cenotes.
Now, here are some cenotes to visit.
Chelentun Cenote: This cenote, near Cuzama, has magnificent blue water through which you can clearly see underwater stalagmites.
Ik-Kil: This is the "Sacred Blue Cenote" of the Mayans and is located near the ancient Mayan city of Chichen Itza. It is notable for its breathtaking blue color, its perfectly round shape and for its beautiful vines and waterfalls.
Kankirixche: This cenote is deep enough for you to practice your scuba diving or snorkeling. Underwater, you'll find fascinating rock formations. Above the water line you'll see tree roots intertwining among the stalactites before they stretch down to the water.
Keken: If you've seen a picture of a cenote, chances are it was of this one, near Valladolid. Also known as Dzitnup, this underground formation has a hole in the ceiling, making for a unique experience.
Sian Ka'an Biosphere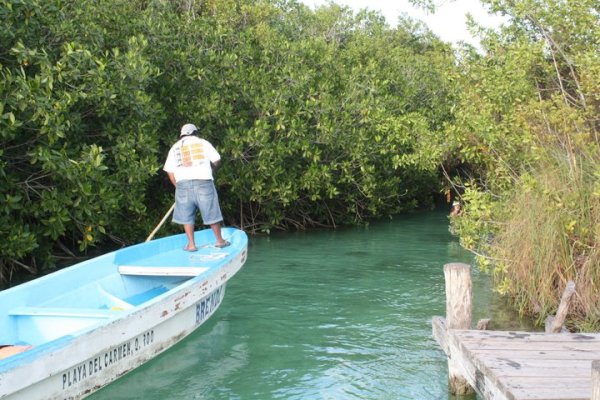 If you are visiting Tulum, Mexico, it may be hard to believe that you'd want to leave the sugar-white beaches and ancient ruins. But you really should tear yourself away to visit the Sian Ka'an Biosphere. Read on to find out what you can see "where the sky was born" (one of the translations of the ancient Mayan name for the place).
Sian Ka'an is also translated as "gift of the sky". You'll understand why when you arrive. This UNESCO World Heritage Site is big — 1.3 million-acres – and has at least 23 known archeological sites, 103 mammalian species, 336 bird species and is the nesting ground for two endangered species of sea turtles. It is the largest protected area in the Mexican area of the Caribbean region.
Because the reserve area is so important for many reasons, there are strict regulations as to what you can see and do there: Three areas, a total of nearly 700,000 acres, are restricted to scientific research. There is a buffer zone in which the only human activities that are allowed are those with low ecological impact and sustainable development. Access to the biosphere is restricted to the five guarded entrances. However, despite these restrictions, about 2,000 people call the area home, mainly in Punta Allen and Punta Herrero, which are fishing villages.
So what is there to see? For starters there is the Mesoamerican Barrier Reef, the second largest coastal barrier reef in the world. There are also tour packages specifically for bird watching, natural history, Mayan culture and history, fishing, and exploring the many ecosystems in the region, including lowland forest, savannas and mangroves. Guided tours will allow you the chance to see crocodiles, howler monkeys, jaguars, ocelots, pumas and a host of other animal and bird species.
In order to plan a visit to Sian Ka'an, your best bet is to contact the Centro Ecological Sian Ka'an (CESiaK), a non-governmental, non-profit ecotourism/education center. The money it generates through tours, fishing trips, accommodations and other activities provide funding for the reserve's conservation and education programs. Its facilities use ecologically-sound waste management, rainwater collection and solar and wind energy technologies.
If you choose to stay overnight, you will be delighted with the tent cabins that offer beautiful views of the ocean and the lagoons from their terraces. There is a restaurant at the center that offers delicious breakfasts, light meals and desserts for very reasonable rates.
If you visit, be prepared that many places are indeed wild and devoid of human habitation. Use caution, especially when around wildlife.
The Sian Ka'an Biosphere is unique and certainly worthy of protection. A visit there will leave you with an appreciation for the natural beauty, history and diversity of the area and an understanding of why it is important to protect the earth's resources. You will also better understand how to do so. When you're visiting the Yucatan, be sure to reserve some time to appreciate this "gift of the sky."
Fishing in Tulum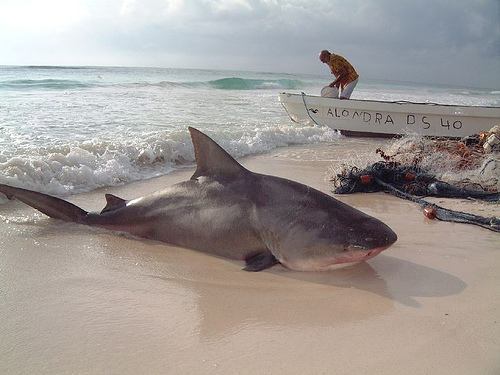 One activity many travelers to the Yucatan often forget about is fishing. The Yucatan does, however, have some of the best fishing in the world. It's what the locals did to survive long before the resorts starting popping up. Read on to find out more.
Because of its ideal conditions, there are three types of fishing you can general do in the Yucatan:
Deep Sea Fishing: You can either go trolling in a moving boat to get the fish nearer the surface or bottom fishing for larger catch.
Fly Fishing: This is generally done in waters about a foot deep, using a lightweight rod. Fly fishing can be done in many of the Yucatan's lagoons, cenotes or in the waters of the Gulf or Caribbean.
Light Tackle (also known as spinning): This is done in waters about 9 to 10 feet deep using heavier-weight rods than in fly fishing. Like fly fishing, light tackle fishing can be done in lagoons, cenotes or in open water. Light tackle is generally easier than other types of fishing and is recommended for beginning anglers.
Depending on where you fish and your equipment, you can catch barracuda, bonefish, grouper, kingfish, mahi mahi, marlin, snapper, sea trout and a variety of others.
If you are a tourist, most likely you will work with a marina or a professional fishing tour company, which will take care of getting your license from the Mexican Ministry of Natural Resources. However, carefully read your fishing tour documents to be sure – there may be an extra fee.
Three of the best fishing areas in the Yucatan are:
Ascension Bay is an area of salt water flats in the midst of the Sian Ka'an biosphere reserve near the town of Punta Allen, long the home of lobster fishermen. You will find bonefish, permit and tarpon in the backwaters, the flats and the lagoons.
Cancun/Cozumel offers excellent sport fishing. From April through June, sailfish gather on nearby Controy Bay and can easily be caught with light tackle. You can also find Dorado and white marlin, with blue marlin found further off shore. Isla Bianca also offers a variety of game fish: many anglers catch a bonefish, permit and tarpon on the same day.
Cenote Azul: If you crave inland fishing, try fishing in one of the thousands of cenotes (sinkholes) inland. It is possible to catch catfish and other freshwater varieties without a line. (If you choose to try fishing at any cenote, ask for permission from the landowner and be sure to have a Mexican fishing permit.
Isla Holbox is surrounded by shallow mangrove flats which are excellent for fishing tarpon. It is off the beaten path for most tourists which makes for a unique fishing experience.
Each of these three areas offers all the amenities you need to make your trip enjoyable: including lodging, food and nightlife (though Isla Holbox is notably quieter and more remote.) Each of them offers experienced guides who will help you to get all the fish you could want.
What could be a more relaxing holiday than a fishing trip to the Yucatan? Start planning your escape today.
Sea Fishing
The best time for sea fishing in the Yucatan is from March- July, this is when you have the opportunity to fish for Sailfish and Marlin. Other great fish include Tuna, Dorado and Snappers…all great eating too.
SEASONs
Barracuda All Year
Amberjack All Year
Grouper All Year
Spanish Makerel All Year
Snaper All Year
Shark All Year
Marlin March to June
Sailfish March to June
Wahoo March to June
Mahi-Mahi March to June
Tuna March to June
Fly Fishing
The Yucatan has some fantasic places for adventurous fly fishing. The main fish are Tarpoo, Snook, Permit and Bonefis. There are numerous locations for for quality fly fishing, take a look at this video to wet your appetite.
Best places for fly fishing
Some of the top Yucatan flyfishing destinations include:
Isla Blanca – North of Cancun
Nichupte Lagoon – Just off the North Eastern Tip offering flats and mangrove areas.
Isla Del Sabalo
Tarpoon Bay Lodge
Campeche Tarpoon Club
Best Tulum Hotels and Cabanas
La Zebra Beach Cantina Y Cabanas
This is the life. La Zebra have got a really cool setup going on at the southern end of the beach. The bar itself is rustic Mexican chic with a busy but beautiful bar. The setting has a laidback atmosphere and the bar entertains guests of all ages. There are hammocks on the beach, slung under the coco palms and there are day beds to lounge upon. The cocktails are freshly made and will soon give you enough Dutch courage to attend one of th gratis salsa dance lessons provided on the beach. La Zebra is a fabulous place to drink a cocktail, check your emails, grab some lunch or swing in a hammock under the stars. Go on, park your car, throw away the keys and settle in for the big chill…
Tulum Palm | 110701-8064-jikatu
Mezzanine
At the other end of the beach, towards the ruins, there is a bar/ restaurant which has moved away from the rustic/ slightly hippy bars and restaurants that Tulum is famous for. It is a sleek operation that could have been picked up from a city in Europe and dropped on Tulum beach. The resident DJ emulates the mood of the crowd, whether everyone is chilled out or up for a party. There are regular party nights and it is certainly a great place to sip a cocktail on the terrace and relax.
Tequila and Margarhita
Ana Y Jose
This is the equivalent of five star beach life. Ana y Jose has a very luxurious feel to the tasteful surroundings. The restaurant and bar might stretch the budget but splash out and have a cocktail. The service is wonderful and the beach never looks better than from the glamour of Ana Y Jose's.
Cocktails
Copal
This set of very rustic and basic cabanas are set 3 kms from the ruins at Tulum. Copal are the original places on the beach and it has retained the hippy edge that makes the place so special. It has an eco spa – how about a massage in the middle of the jungle? The bar is a great place to meet people, grab a snack or try a cocktail. It is yet another place where the temptation to stay far longer than you anticipated will grab you.
Stuff to Avoid in Tulum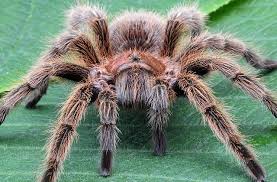 Tulum is a fabulous place to hang out and enjoy life. Life can be idyllic in this part of the Caribbean but the danger is that once you climb into your hammock , all of your street smart sensibility drifts away with all your stress. Well wake up and smell the coffee! Tulum may be paradise but there are some hidden dangers that exist and that you may do very well to avoid. So, put down your cerveza, climb out of your hammock for a moment and check out these things to avoid in Tulum…
Mosquitos
Not many of these about, is there? Maybe you have not even spotted a single mosquito or insect whilst lying on the beach but if you are desperate to meet some of the biting devils then wait for heavy rain and head for a cenote. The conditions make for a mosquito frenzy which can be very dangerous if you happen to be around at the time. Most of the manned cenotes are closed after such an event but there are some that are unmanned and it would be wise to avoid them if there is a hint of rain in the sky .
Mosquito – Zancudo
Swimming
The beach is obviously the main draw in Tulum and there is nothing quite like heading into the azure sea to cool off after catching some rays. The waters are warm, attracting some of the best tropical marine life on the planet. Snorkelling the world's second largest reef is the icing on the cake for many travellers and diving is a very popular past time for those with more adventurous tastes. However, do not let this gigantic aquarium fool you. As in any ocean setting, the sea holds danger for humans. The species of fish in these waters range from the innocent to the downright deadly. Familiarise yourself with basic identitiy skills of the most dangerous fish and avoid any contact with them. The Lionfish is a scorpion fish that will stick you with a spine and then it's either a mild sting for you or cardiovascular emergency. Neuromuscular damage can also kick in. Do not touch Sea Urchins or any kind of coral as many species can inflict serious pain. When entering the sea directly from the beach, take care where to place your feet in case of standing on any creatures that will attack you as a consequence. Where dive boots or even jelly shoes if possible.
Clearfin Lionfish, Pterois radiata at Abu Dabab Reefs, Red Sea, Egypt #SCUBA
Little Creatures Sleeping in your Shoes
Staying on the beach in a fantastic cabana? These lovely rustic structures have a basicness which is befitting of Tulum's eco conscience. Of course, there is a downside to living in a jungle in a hut where many of the jungle creatures can share your accommodation whenever they like. The golden rule is check your bed before getting into it and always check your shoes. I have personally seen two Tarantulas pottering down the beach road and I know that scorpions are fond of the area. Have I mentioned the snakes? There are some beefy examples of snakes around so just be vigilant, especially at night. It is better to be a little scared and overly cautious rather than ignorant of your fellow companions. Always remember: I am camping in a jungle. That seems to put the experience in perspective.
Tarantula on the road 3
The truth about staying in Tulum is that you will probably face more danger on the drive from Cancun airport than in the sleepy resort that we all love. Just keep your wits about you in order to have a safe and happy holiday.