Summer is almost upon us and what better way is there to enjoy the sunshine than at a music festival, surrounded by your friends and the dulcet tones of your favourite singer. From Barcelona to Budapest, we've got the lowdown on all of the very best music festivals worldwide.
Coachella | California | April 12th-14th/19th-21st
You've probably seen many a photo of scantily clad celebrities wandering around the Coachella Festival in the media lately and you could be forgiven for thinking you had missed out this year, but, fear not! The festival duplicates its lineup for two weekends so festivalgoers don't miss a beat and this year their headliners include The Stone Roses, the Red Hot Chili Peppers, and Blur. Born from simple pop concerts Coachella is now a firm favourite and has become infamous for bringing Tupac Shakur back from the dead last year in the form of a hologram.
Sonar | Barcelona | June 13th-15th
If partying from dusk 'til dawn is your thing then this is the festival for you! Split into two parts; Sonar by Day and Sonar by Night, the festival showcases emerging artists during the day and come nightfall international headliners are just a 10-minute shuttle bus journey away. Headlining this year are Skrillex, Two Door Cinema Club and Pet Shop Boys. Make the most of Barcelona by hiring a car to explore the city or hit the beach.
Don't fancy Barcelona? Don't worry, Sonar is also held in Tokyo, Sao Paulo, Cape Town and Reykjavik, so take your pick.
Glastonbury | England | June 26th – 30th
source: NME
A long-standing festival legend, Glastonbury Festival has been running since 1970 when the Michael Eavis charged £1 entry to a music festival held on his 900-acre farm in Somerset. The festival has grown on an epic scale since then and has seen headliners including David Bowie, Oasis, Bruce Springsteen, Paul McCartney, and more!
Bring your wellies and a tent, this is one often gets pretty muddy!
Sziget | Budapest | August 5th – 12th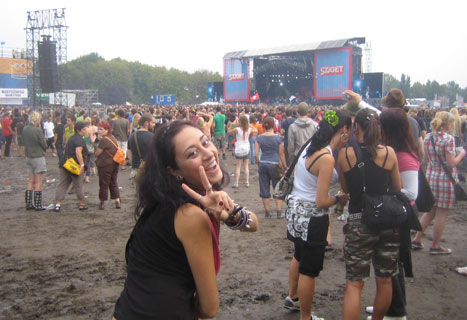 source: Locallife
For a music festival that offers a whole lot more than music, head to Sziget in Budapest. The festival is dubbed '7 days of non-stop partying' and this year features music from Hadouken! Azelia Banks and Blur as well as bungee jumping and belly dancing lessons! There's plenty to explore in Budapest, including some fantastic beaches, and many festivalgoers end up staying long after the festival has ended.
Fuji Rock Festival | Japan | July 26th – 28th
source: Qeic
Nestled on the slopes of Mount Takenoko's Naeba Ski Resort (see map below) the Fuji Rock Festival is the Mecca of die-hard lovers of music. Although the lineup for this year is yet to be confirmed, last year the festival featured Jack White, The Shins, and Radionhead on their open-air stages. If you're a lover of world cuisine you'll love the festival's hospitality area, the Oasis, where you can savour dishes from across the globe.