California is the third largest state and the most populous of any in America. This western coastal region is a major draw for domestic and overseas tourists and has seen visitor numbers peak at 251 million in recent years. The Golden State excites, interests and amazes in equal measure whether you are travelling as a family or as adults looking for historical, scenic, cultural, educational or park-based attractions.
1. The Golden Gate Bridge
The often fog-embraced bridge spans the 1.7 mile Golden Gate strait linking Marin County to San Francisco. Over 10 million tourists come here annually to see one of America's most iconic landmarks. The new Golden Gate Bridge Visitor Center has exhibits, interpretative merchandise and displays charting the history of the bridge which will be celebrating its 80th anniversary in 2017.
2. The Getty Center
The Getty Center is part of the Getty Museum – an institution promoting 'understanding and preservation of the world's artistic heritage'. Discover more about Richard Meier's architecture and the design of the Getty Center in one of many tours. Van Gogh's Irises is one of many fabulous European oil paintings on show. The Central Garden is 134,000 square-feet of tree-lined displays designed by Robert Irwin and is a riot of color and scents, and well worth a walk. And while you're seeing the sights inside the grounds don't forget to spare some time to admire the views from the Center – the Los Angeles skyline is truly spectacular. Oh and to top it off, entry to the Center is free!
3. Griffith Observatory
Perhaps not the most obvious place to site an observatory, the Griffith is home to astronomical attractions including the public 12-inch refractor Zeiss telescope and the Samuel Oschin Planetarium. The planetarium uses a state-of-the-art Zeiss star projector coupled to a digital projection system housed in a beautiful aluminum dome that welcomes 290 visitors each session. There are several shows each day and all are hosted by a live narrator.
4. The Huntington
Gardens, art galleries and a library comprise the Huntington experience. The galleries showcase 650 paintings and 440 sculptures of European and American art going back 500 years. There are 12 botanical gardens with some 15,000 species of plants. The nursery has some exotic specimens for sale but if you're intending to take any out of the States it's a good idea to check with your country's regulations first.
5. Disneyland Park, Anaheim
Now into its seventh decade Disneyland Park has seven themed 'lands' spanning 85 acres. The eighth land currently under construction is Star Wars themed and one attraction will be the Millennium Falcon ride. Adventureland harks back to an imaginary jungle theme of Africa and South America where the Indiana Jones ride is rightly famous. A trip to Tomorrowland isn't complete without going on the Space Mountain ride accompanied by an exhilarating score by Star Trek and Jurassic World composer Michael Giacchino. Meanwhile, the Matterhorn Bobsleds of Fantasyland's newly upgraded animatronics and soundscape make your ride down the mountain scarier as you hear the Abominable Snowman chasing you every step of the way. It goes without saying that this isn't one of your cheaper experiences and you also need to be prepared for queuing during the busier times.
6. Universal Studios Hollywood
Out of all the attractions at Universal Studios I'd pick The Walking Dead, the Studio Tour and The Wizarding World of Harry Potter as my favorites. The Walking Dead experience is fully immersive and you are chased by hordes of terrifyingly made-up 'walkers' through the streets – not one for the kids! The Studio Tour takes you on a journey of 13 famous (infamous?) blocks of movie and TV history such as Jaws, Desperate Housewives and of course the award-winning immersive 3D King Kong experience! At the Wizarding World you can visit the shops and eateries inspired by Harry's world. Pop to the Three Broomsticks, Hogsmeade, Honeydukes and – of course – the personalized wand fitting at Ollivanders.
7. The New Children's Museum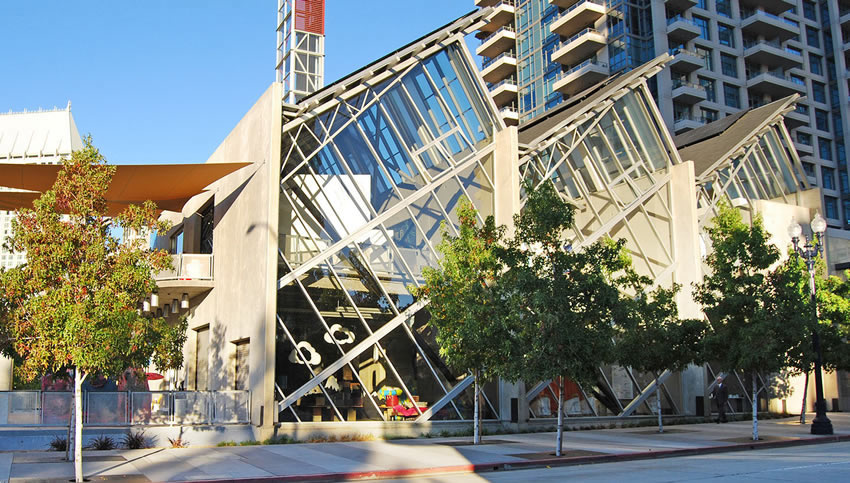 A trip to the museum is usually met with groans from your kids but at the New Children's Museum its aim is to involve your kids with interesting and creative experiences to fire their imaginations. It's very hands-on and kids will love the chance to work with paints and clay (dress appropriately!) all day. For cleaner fun there are interactive educational games like the Desert Derby where your kids can push carved wooden cars across a 3D track representing the freeways and aqueducts that provide drinking water to 21 million of California's 23 million residents. The museum also has a shop with stuffed toys, books and educational games and the Green Bellies Café. The café prides itself on its natural produce that avoids processed sugar, processed white flour and unhealthy additives. You can also order your food to go.
8. The Hess Collection Visitor Center
Situated in Napa are California's premier vineyards where some of the world's finest wine is produced. Keen to show their environmentally-friendly credentials, 2015 saw the American Canyon vineyards join Hess's Mount Vedeer vineyards and winery in being certified as sustainable by the California Sustainable Winegrowing Alliance. The visitor center in the Mount Veeder appellation has a menu of tasty organically grown seasonal produce complemented by excellent Hess wines to tantalize your taste buds. The three-course lunch recipes are created by Executive Chef Chad Hendrickson and presented in their recently refurbished dining room with marvelous views. I'd advise asking for one of their renowned Cabernet Sauvignon or Chardonnays.
9. Yosemite National Park
If you're after your break being more adventurous then look no further than the UNESCO World Heritage Site of Yosemite National Park. This stunning glacially-carved granite environment takes in five vegetation altitude zones from oak forest to alpine and it's little wonder that almost a quarter of California's plant species are found here. For backpackers there are day walks or the full-on several days' camping excursions. There are 800 miles of paths and these are graded between gentle and arduous which is great to know if perhaps you're encouraging your kids to get into backpacking or if you're a seasoned hiker looking to test yourself.  You can also hire mountain bikes and hit some of the amazing MTB trails.
Rock climbing became classed as a sport thanks to the Camp 4 campground where climbers would hang out for months. Experienced and well-equipped climbers can try the vertical-faced 3,300 ft high El Capitan. If you prefer to stay a little closer to the ground then you can try bouldering – where you ascend boulders that are no higher than 30 feet but your only equipment are high-grip shoes and chalk dust for your fingers. Ensure you have adequate gear like hydration backpacks for hiking.
10. Death Valley
Hiking is nothing if not a varied pastime. Where Yosemite is characterized by sheer cliffs, verdant undergrowth and is often alpine in altitude, Death Valley is sparse, arid and its Badwater Basin is 280 feet below sea level. Death Valley is a land of extreme heat where summer temperatures rise over 110 °F. In fact more than half the year the daytime temperatures average 90 °F. Despite its name there is wildlife and vegetation here – perhaps you'll see the real-life Wile E. Coyote and Roadrunner! Hiking is best when it's cooler between October and April. There are few official trails to follow, most of it is cross-country following ridges and canyons so it is important that you acquaint yourself with the ranger station locations and hire the services of a guide if you're not an accomplished backpacker. Taking an adequate supply of water is essential if you're going to meet the challenges that Death Valley will throw at you. Many of the natural water sources are too salty or otherwise unsuitable to drink. Walking here is a journey through the starkly beautiful environment with your survival never far from your thoughts.
11. The Old Globe
Based on the London theater made famous by Shakespeare's plays, The Old Globe is a modern, 600-seat reconstruction in Balboa Park, San Diego. Its aim is to advance American theater by ensuring diversity and balance in programming and to produce great entertainment to benefit actors and thrill audiences. No fewer than 15 productions and 600 performances are presented each year on three stages in The Old Globe. The park has many other attractions too: the Marie Hitchcock Puppet Theater which has shows for pre-schoolers and older kids, the San Diego Youth Symphony with its concerts, and the San Diego Natural History Museum. There are eateries, shopping areas and sports centers that all add up to a great day of fun and performing arts adventure.
12. General Sherman
Standing in the Sequoia National Park, Tulare County is the magnificent giant sequoia named General Sherman. It's currently the tallest single-stemmed tree in the world, a sky-grazing 275 feet into the air. The circumference at the ground is a staggering 103 feet and its estimated weight is nearly 2,100 short tons. This sequoia is between 2,500 and 2,700 years old (the Italian City of Pompeii was being founded, Rome was in its infancy and the Greeks were colonizing parts of the Mediterranean).
Seeing it in person is an awe-inspiring, humbling experience and one which you'll not easily forget. Many people come here to get their photograph taken so don't be surprised if you have to line up for your opportunity. The site has had a lot of work done to it to make it family -friendly and there is also parking available for those with mobility problems. It takes about 20 minutes to walk down from the main car-park although it will take you longer to walk back up. The disabled parking area is closer and the paths are paved to improve accessibility. To find out more about the giant sequoias in the forest I'd recommend visiting the Giant Forest Museum and ask about a ranger-led tour – you'll learn a lot from their experienced staff.
13. The Last Bookstore
The ironically-titled Last Bookstore is one of the largest independent bookstores in the world. They buy and sell new and secondhand books over two floors of a building that used to be a bank. Shelves upon shelves contain over 250,000 books but they also incorporate books as art installations. Arches made of damaged books create impressive spaces you won't find anywhere else. The store has an annex of rare books, a vinyl records selection numbering in the thousands and a section devoted to graphic novels. The Last Bookstore also hosts special talks and events of the literary, theatrical and musical nature in its 6,000 sq ft audience area so it's worth checking their calendar before you visit. Oh and one series of books you'll never find there is the Twilight Saga – they're not keen on those (sigh).
14. The Wave Organ
California's appeal as a tourist destination can partly be attributed to the sheer diversity of its attractions. The Wave Organ is on a jetty built from reclaimed granite and marble in San Francisco's Marina district. 25 organ pipes made from PVC tubing and concrete twist and curl from the waters' edge up to different levels. As the Pacific Ocean tide rises and falls the impact of the waves generate notes and harmonics producing a unique, ever-changing melody. Naturally the best visits are at high tide!
15. San Francisco Opera
My last choice – there are so many sights to see and things to do in California it's always a challenge to narrow them down – is the San Francisco Opera. This is an amazing cultural experience and if you're a traveler from the UK you may have avoided due to cost and the class stigma. Well if you find yourself in Frisco then with tickets starting from as little as $10 I'd recommend you seeing what you've been missing. The SFO puts on great shows in a beautiful venue with modern seating and frills. Recent productions have included the Czech opera The Makropulos Affair and Madame Butterfly. Upcoming productions include Wagner's entire Ring cycle over the course of a single exhausting week! An ideal first opera is Verdi's Aida and if you arrive an hour before curtain goes up you will be entertained by the pre-opera talk which helps put the story into context and demystify what you're about to see and hear. Your first opera is a powerful and emotionally charged experience – why not give a go?